---
Brochure - 06 December 2021

The EcoFuel consortium has released its brochure to present the project objectives.
 To download this brochure, please just click HERE.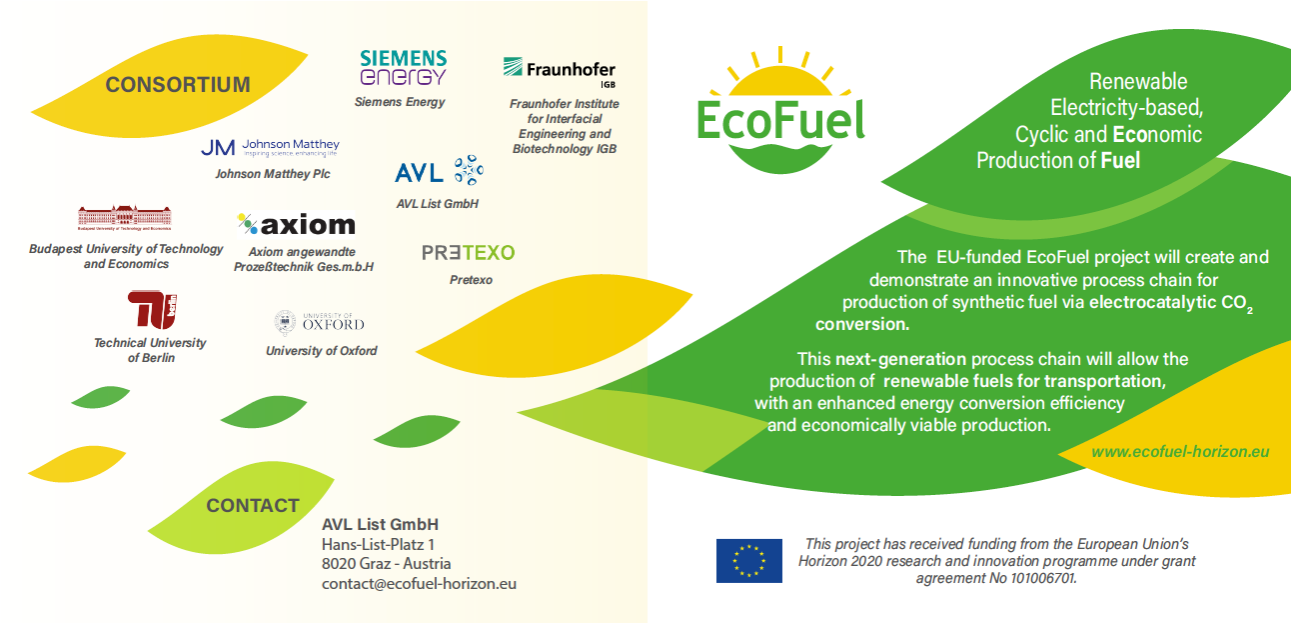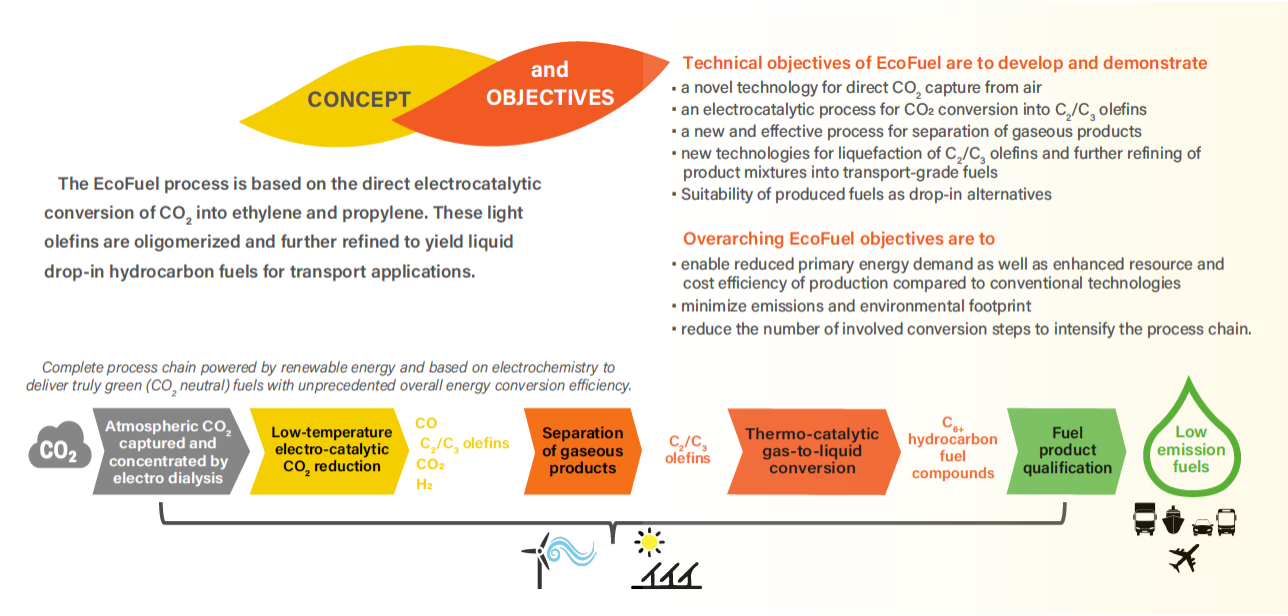 ---
Newsletter #2 - 29 March 2023

Since the publication of the first EcoFuel newsletter in March 2022, an intense development work has been undertaken by all EcoFuel partners on the separate components of the process chain.
To download this Newsletter, please just click HERE.

Newsletter #1 - 25 May 2022

Carbon neutral fuels constitute a core element to reach our goals for the decarbonisation of air and maritime transport as well as Europe's independence on fossil energy carriers. To do so, the EU-funded EcoFuel project creates a disruptive process for production of synthetic fuel and will demonstrate it on each individual element of the value chain.
The main achievements during the first project phase:
An energy saving Direct Air Capture (DAC) process based on electrodialysis planned to go in pilot operation in the second half of 2022,
An improved electrocatalyst's performance for CO2 reduction to ethylene,
New anode catalysts for the oxygen evolution reaction saving Iridium while showing greater intrinsic activity compared to the commercial benchmark,
A selective multistep membrane upgrading process enriching the ethylene concentration leaving the electrochemical cell to 97% ready for the next process step,
Potential evaluation of catalysts containing active nickel sites supported on acidic substrates for improving the thermo-catalytic oligomerization of ethylene.
These achievements are supposed to lay the foundations to develop next generation renewable fuel technologies solely based on atmospheric CO2 and renewable energy.
To download this Newsletter, please just click HERE.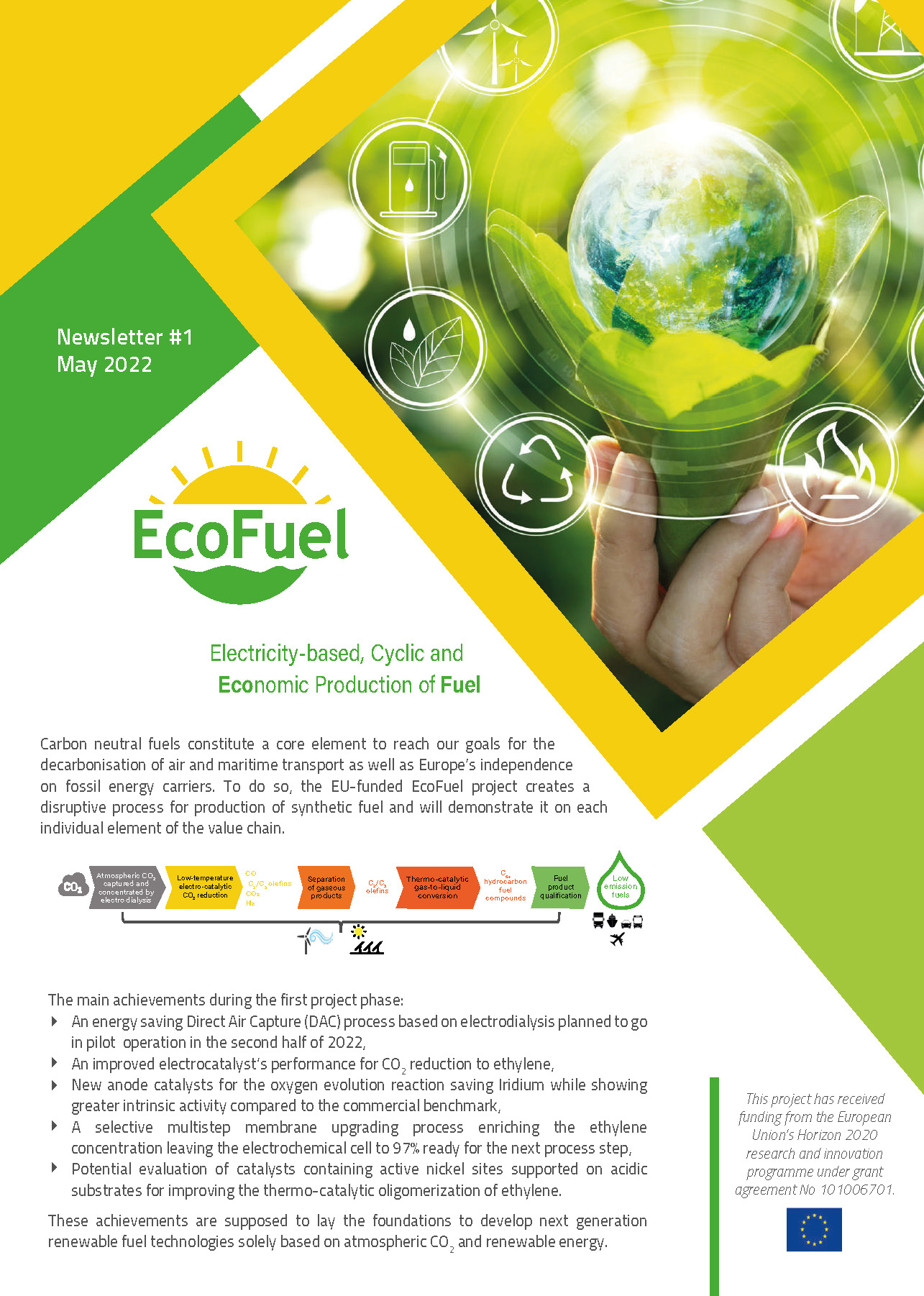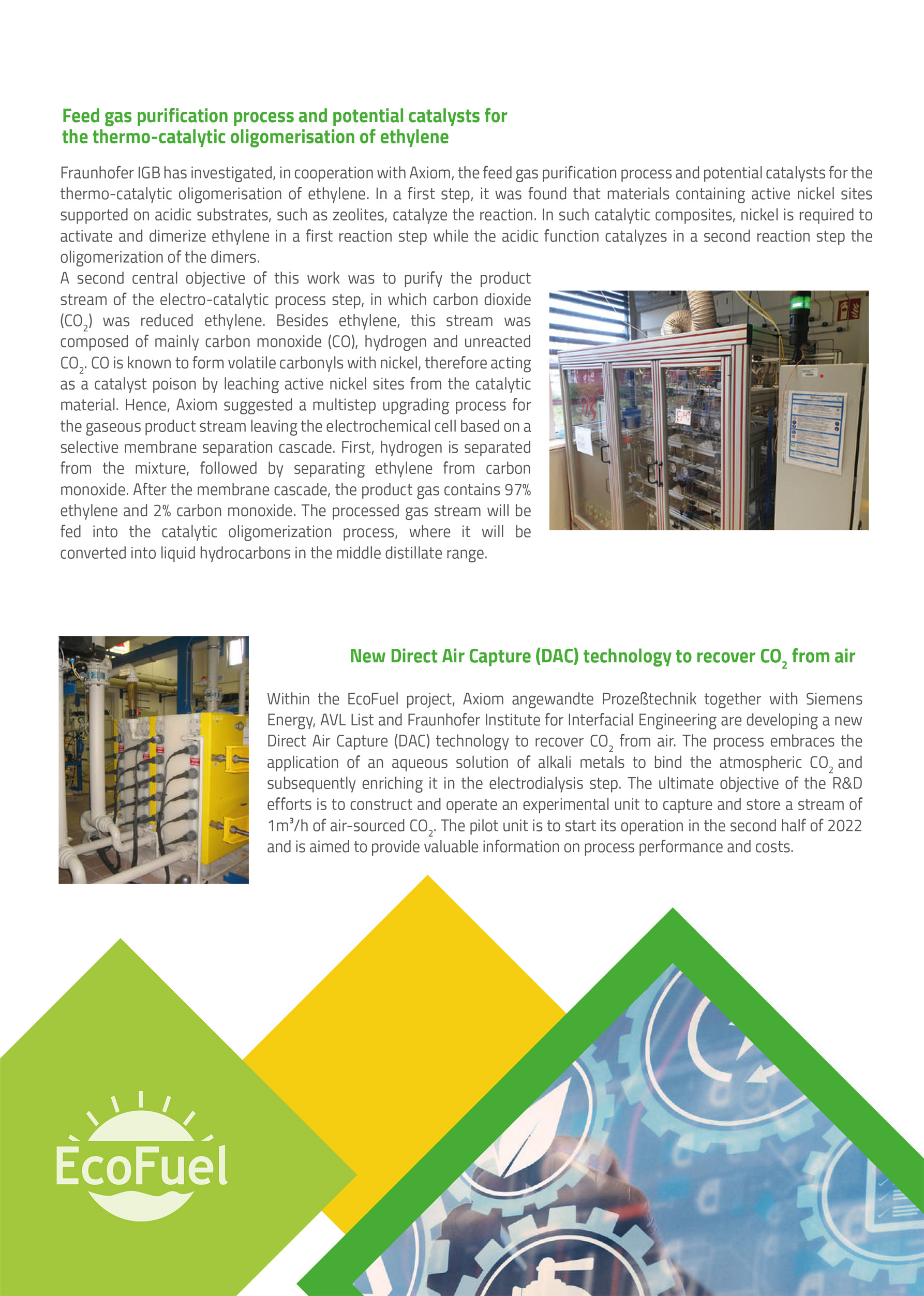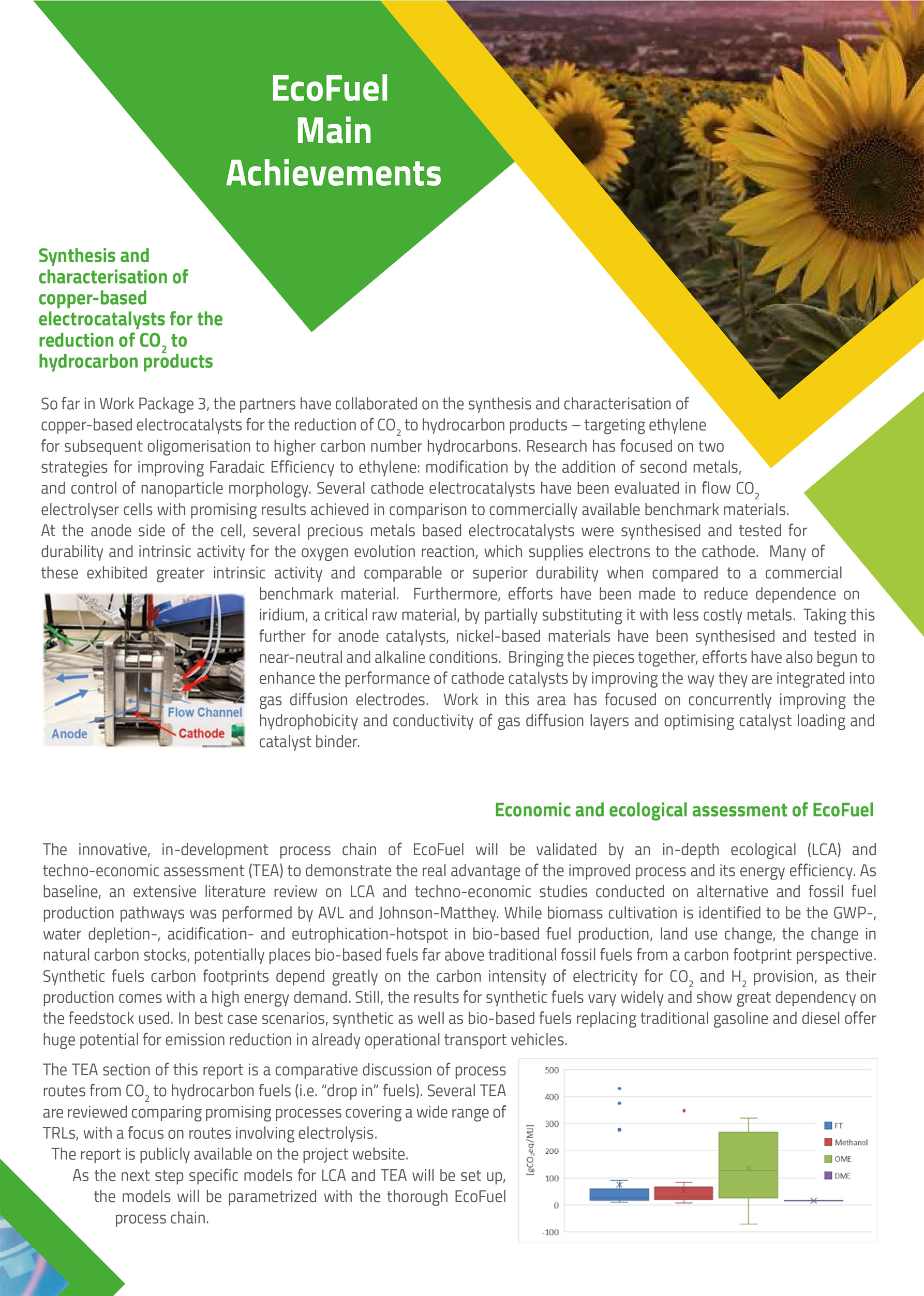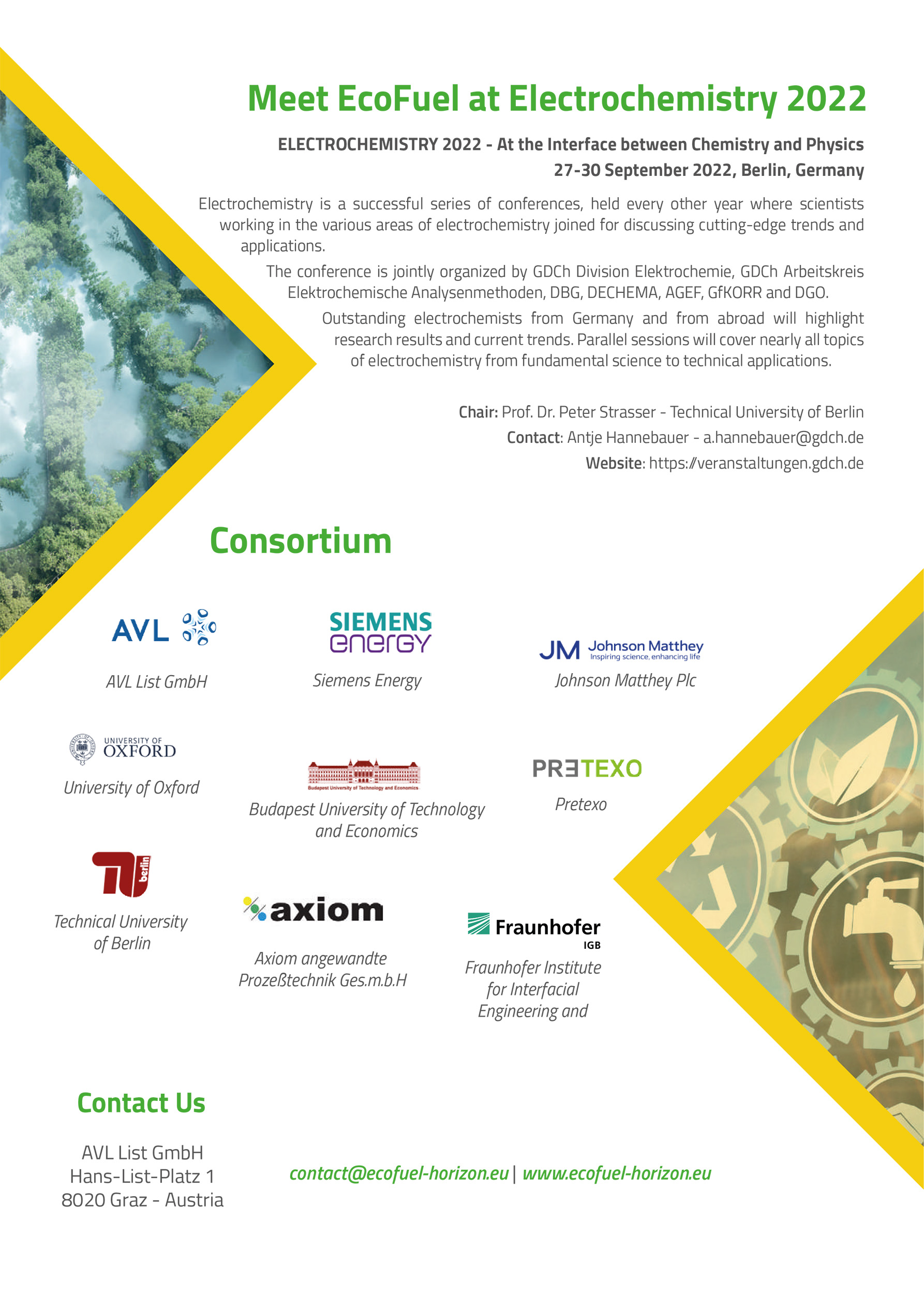 ---
Fraunhofer website, 09 March 2021

Project information and link: https://www.igb.fraunhofer.de
AXIOM website, 21 March 2021

Project information and link: https://www.axiom.at/research/ecofuel/
---
TV short documentary about e-Ethylene, mostly for Polymers (Min 8:09): https://www.ndr.de/fernsehen/sendungen/markt/Plastik-Muell-Wie-kann-Kunststoff-nachhaltiger-werden,markt15456.html
The TV Channel "Deutsche Welle", came to visit TUB labs to produce a report on "Opportunities and Challenges of green hydrogen and CO2 electrolysis". Documentary has been broadcast in Latin America area (Middle and South America).
The TU Berlin news outlet has produced a Photo shooting of CO2 electrolyzer equipment at Peter Strasser's lab to showcase our lines of research in renewable energy and synthetic fuels and chemicals. Newsportal: Hochschulzeitung "TU intern" Oktober-Ausgabe erschienen (tu-berlin.de)